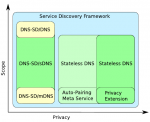 User-Friendly, Versatile, and Efficient Multi-Link DNS Service Discovery
.
In:

Proceedings of the 1st Workshop on Edge Computing (WEC 2016); in conjunction with IEEE ICDCS 2016,

2016

.
Abstract
When mobile devices at the network edge want to communicate with each other, they too often depend on the availability of faraway resources. Feasible user-friendly service discovery is essential for direct communication. DNS Service Discovery over Multicast DNS (DNS-SD/mDNS) is widely used for configurationless service discovery in local networks; due in no small part to the fact that it is based on the well established DNS, and efficient in small networks.

In our research, we enhance DNS-SD/mDNS providing versatility, user control, efficiency, and privacy, while maintaining the deployment simplicity and backward compatibility. These enhancements are necessary to make it a solid, flexible foundation for device communication in the edge of the Internet.

In this paper, we focus on providing multi-link capabilities and scalable scopes for DNS-SD while being mindful of both user-friendliness and efficiency. We propose DNS-SD over Stateless DNS (DNS-SD/sDNS), a solution that allows configurationless service discovery in arbitrary self-named scopes – largely independent of the physical network layout – by leveraging our Stateless DNS technique and the Raft consensus algorithm.
@inproceedings{kaiser2016user-friendly,
title = {User-Friendly, Versatile, and Efficient Multi-Link DNS Service Discovery},
author = {Daniel Kaiser and Marcel Waldvogel and Holger Strittmatter and Oliver Haase
},
url = {https://netfuture.ch/wp-content/uploads/2016/06/kaiser2016user-friendly.pdf},
year  = {2016},
date = {2016-06-27},
urldate = {1000-01-01},
booktitle = {Proceedings of the 1st Workshop on Edge Computing (WEC 2016); in conjunction with IEEE ICDCS 2016},
abstract = {When mobile devices at the network edge want to communicate with each other, they too often depend on the availability of faraway resources. Feasible user-friendly service discovery is essential for direct communication. DNS Service Discovery over Multicast DNS (DNS-SD/mDNS) is widely used for configurationless service discovery in local networks; due in no small part to the fact that it is based on the well established DNS, and efficient in small networks.

In our research, we enhance DNS-SD/mDNS providing versatility, user control, efficiency, and privacy, while maintaining the deployment simplicity and backward compatibility. These enhancements are necessary to make it a solid, flexible foundation for device communication in the edge of the Internet.

In this paper, we focus on providing multi-link capabilities and scalable scopes for DNS-SD while being mindful of both user-friendliness and efficiency. We propose DNS-SD over Stateless DNS (DNS-SD/sDNS), a solution that allows configurationless service discovery in arbitrary self-named scopes – largely independent of the physical network layout – by leveraging our Stateless DNS technique and the Raft consensus algorithm.},
keywords = {DNS-SD, Multicast, Service Discovery, Zeroconf},
pubstate = {published},
tppubtype = {inproceedings}
}