Since 2020, Marcel Waldvogel is devoting his time to improve the trust we can place into all things computer: hardware, software, and processes. At Trifence AG, which he co-founded, he is working to create software and hardware to improve our lives and create trust. At Netfuture, he helps companies to secure their IT.
Previously, he was Professor of Computer and Information Science at University of Konstanz, Germany for more than fifteen years, including first being head of the University's IT Infrastructure Centre and later a director in the University's Communications, Information, Media Centre. Before that, he worked on innovative networking technologies at IBM's Zurich Research Laboratory in Rüschlikon, Switzerland. He also was Assistant Professor at Washington University in St. Louis, Missouri, USA and had co-founded a successful software development and consulting company. He holds a Diploma degree in Computer Science (Informatikingenieur) and a Ph.D. from ETH Zürich and has authored over 100 scholarly publications.
This unique combination of innovative research and pragmatic implementation is a guarantee for novel, down-to-earth solutions. By exploring all degrees of freedom, he continually challenges himself to provide a lean solutions, exceeding your expectations in security and effectiveness. This has helped many users, ranging from global players in networking technology to security-conscious medical institutions.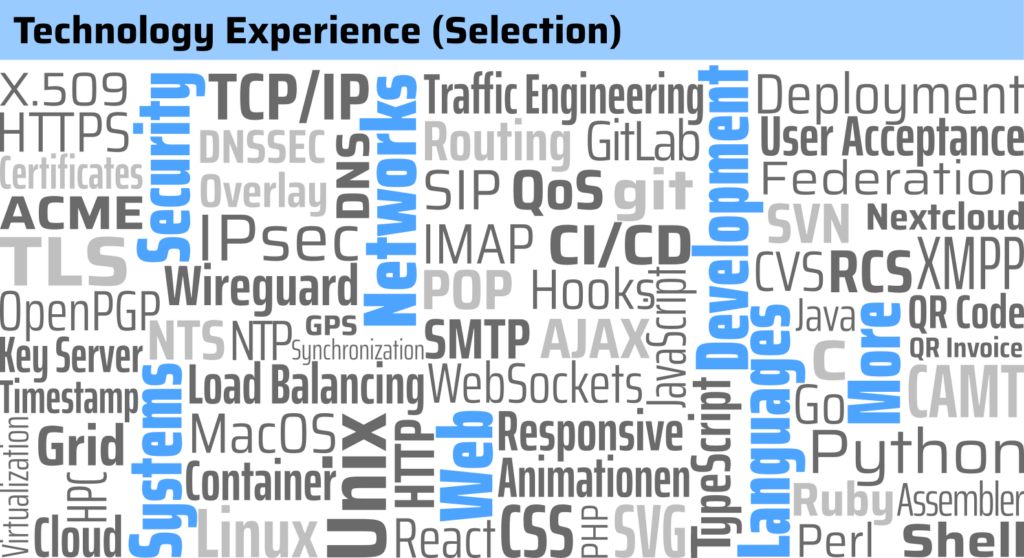 Securing the Internet, one company at a time
According to an old proverb, security is a process, not a goal. The entire IT team from software developer, system administrator up to the management, need to be aware of this. Your entire IT staff needs to defend hundreds or thousands of potential risks, while an attacker is full of joy once he finds a single loophole.
Our increasingly diverse infrastructure for home and business use makes this defense harder and harder every day. Security is the fine line to walk while at the same time making all information easily accessible to all authorized users with imperceptible hurdles from all around the world on all kinds of devices; while at the same time creating impenetrable walls and moats against potential intruders.
Our security services
The only way to secure the increasingly complex systems with intricate interdependencies is to
have collected wide and deep technical insights and how they interact with each other,
be able to understand the customer in his or her world and words,
have experience in communicating facts and their interplay in simple language, and
look at the challenges methodically and with experience.
Together with other seasoned experts, I can help you
design products or systems for security: confidentiality, integrity, and availability;
analyse your setups for existing and potential security problems;
provide simple solutions to security problems: manageable, user-friendly and convenient; and
design and document IT security management systems: data security and data protection.
Netfuture
Netfuture is where Marcel Waldvogel talks about the future of Internet technology, focusing on security and scalability in a growing Internet world. Those needs can often be best achieved by decentralized or federated solutions based on open, peer-reviewed protocols. To get these services to users, a comfortable web-based user experience is one of the key aspects. You will find article coverage in all of these areas.
This expertise is provided to help you provide bespoke innovative solutions featuring elegant simplicity and high practical value to the growing needs of security and privacy.
Contact
Netfuture
Marcel Waldvogel
Im Boll 6
8260 Stein am Rhein
Switzerland
+41 52 202 0337
waldvogel@netfuture.ch
Photo credits
My portrait was taken by Andrea Kubli and is used by permission. The other pictures have been created by me (or, for publications, one of the co-authors) unless stated otherwise.