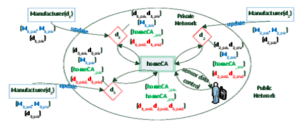 HomeCA: Scalable Secure IoT Network Integration
.
In:

Stumme, David; Geihs; Lange; (Ed.):

INFORMATIK 2019,

pp. 167-180,

Gesellschaft für Informatik,

2019

.
Abstract
Integrating Internet of Things (IoT) devices into an existing network is a nightmare. Minimalistic, unfriendly user interfaces, if any; badly chosen security methods, most notably the defaults; lack of long term security; and bugs or misconfigurations are plentiful. As a result, an increasing number of owners operate unsecure devices.

Our investigations into the root causes of the problems resulted in the development of Home Certificate Authority (HomeCA). HomeCA includes a comprehensive set of secure, vendor-independent interoperable practices based on existing protocols and open standards. HomeCA avoids most of the current pitfalls in network integration by design. Long-term protocol security, permission management, and secure usage combined with simplified device integration and secure key updates on ownership acquisition pave the way toward scalable, federated IoT security.
@inproceedings{mueller2019homeca,
title = {HomeCA: Scalable Secure IoT Network Integration},
author = {Robert Müller; Corinna Schmitt; Daniel Kaiser; Marcel Waldvogel},
editor = {David; Geihs; Lange; Stumme},
url = {https://netfuture.ch/wp-content/uploads/2019/09/mueller2019homeca.pdf},
year  = {2019},
date = {2019-09-25},
urldate = {1000-01-01},
booktitle = {INFORMATIK 2019},
journal = {INFORMATIK 2019},
volume = {P-294},
pages = {167-180},
publisher = {Gesellschaft für Informatik},
series = {LNI},
abstract = {Integrating Internet of Things (IoT) devices into an existing network is a nightmare. Minimalistic, unfriendly user interfaces, if any; badly chosen security methods, most notably the defaults; lack of long term security; and bugs or misconfigurations are plentiful. As a result, an increasing number of owners operate unsecure devices.

Our investigations into the root causes of the problems resulted in the development of Home Certificate Authority (HomeCA). HomeCA includes a comprehensive set of secure, vendor-independent interoperable practices based on existing protocols and open standards. HomeCA avoids most of the current pitfalls in network integration by design. Long-term protocol security, permission management, and secure usage combined with simplified device integration and secure key updates on ownership acquisition pave the way toward scalable, federated IoT security.},
keywords = {Internet of Things, Security, Wireless},
pubstate = {published},
tppubtype = {inproceedings}
}