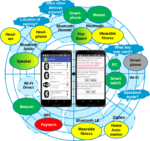 MoDeNA: Enhancing User Security for Devices in Wireless Personal and Local Area Networks
.
In:

Proceedings of AIMS 2017,

2017

.
Abstract
Today most used devices are connected with each other building the Internet of Things (IoT). A variety of protocols are used depending on the underlying network infrastructure, application (e.g., Smart City, eHealth), and device capability. The judgment of the security feeling of the data sharing depends on personal settings (e.g., easy to use, encrypted transmission, anonymization support). MoDeNA – a Mobile Device Network Assistant – was developed offering an opportunity for understanding the judgment of security by bringing the user's concerns and their technology understanding of used devices and protocols into relation. MoDeNA provides a transparent overview over the used wireless security of the user's device giving concrete advices for improving the connection security and usability of mobile device security.
@inproceedings{Müller2017MoDeNA-AIMS,
title = {MoDeNA: Enhancing User Security for Devices in Wireless Personal and Local Area Networks},
author = {Robert Müller and Marcel Waldvogel and Corinna Schmitt},
url = {https://netfuture.ch/wp-content/uploads/2017/07/mueller2017modena.pdf
https://netfuture.ch/wp-content/uploads/2017/07/modena_presentation_aims_2017_07_12.pdf},
year  = {2017},
date = {2017-07-10},
urldate = {1000-01-01},
booktitle = {Proceedings of AIMS 2017},
abstract = {Today most used devices are connected with each other building the Internet of Things (IoT). A variety of protocols are used depending on the underlying network infrastructure, application (e.g., Smart City, eHealth), and device capability. The judgment of the security feeling of the data sharing depends on personal settings (e.g., easy to use, encrypted transmission, anonymization support). MoDeNA – a Mobile Device Network Assistant – was developed offering an opportunity for understanding the judgment of security by bringing the user's concerns and their technology understanding of used devices and protocols into relation. MoDeNA provides a transparent overview over the used wireless security of the user's device giving concrete advices for improving the connection security and usability of mobile device security.},
keywords = {Internet of Things, Mobile Networks, Security, Usability},
pubstate = {published},
tppubtype = {inproceedings}
}