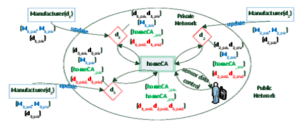 HomeCA: Scalable Secure IoT Network Integration
.
Distributed Systems Laboratory, University of Konstanz

no. KN-2017-DISY-01,

2017

.
Abstract
The sheer number of devices in the Internet of Things (IoT) makes efficient
device integration into a user's home or corporate network a nightmare. More and
more owners lose control over their devices, often due to badly chosen security
defaults, software bugs, or broken protocols. The lack of user interface and the
long period of device usage increase the plight. We identify several root causes,
resulting in HomeCA, a comprehensive set of secure, vendor-neutral practices
based on existing protocols and open standards. These practices avoid most of
the common pitfalls, allow long-term permission management and secure usage,
and include support for automatic device integration. We also present a protocol
for ensuring secure key updates when acquiring device ownership.
@techreport{Mueller2017HomeCA,
title = {HomeCA: Scalable Secure IoT Network Integration},
author = {Robert Müller and Marcel Waldvogel and Daniel Kaiser},
url = {https://netfuture.ch/wp-content/uploads/2017/03/kn-2017-disy-01.pdf},
year  = {2017},
date = {2017-03-12},
urldate = {1000-01-01},
number = {KN-2017-DISY-01},
institution = {Distributed Systems Laboratory, University of Konstanz},
abstract = {The sheer number of devices in the Internet of Things (IoT) makes efficient
device integration into a user's home or corporate network a nightmare. More and
more owners lose control over their devices, often due to badly chosen security
defaults, software bugs, or broken protocols. The lack of user interface and the
long period of device usage increase the plight. We identify several root causes,
resulting in HomeCA, a comprehensive set of secure, vendor-neutral practices
based on existing protocols and open standards. These practices avoid most of
the common pitfalls, allow long-term permission management and secure usage,
and include support for automatic device integration. We also present a protocol
for ensuring secure key updates when acquiring device ownership.},
keywords = {Internet of Things, Security, Trust},
pubstate = {published},
tppubtype = {techreport}
}