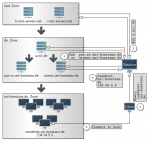 Realistic, Extensible DNS and mDNS Models for INET/OMNeT++
.
In:

Proceedings of the "OMNeT++ Community Summit 2015",

2015

.
Abstract
The domain name system (DNS) is one of the core services in today's network structures. In local and ad-hoc networks DNS is often enhanced or replaced by mDNS. As of yet, no simulation models for DNS and mDNS have been developed for INET/OMNeT++. We introduce DNS and mDNS simulation models for OMNeT++, which allow researchers to easily prototype and evaluate extensions for these protocols. In addition, we present models for our own experimental extensions, namely Stateless DNS and Privacy-Enhanced mDNS, that are based on the aforementioned models. Using our models we were able to further improve the efficiency of our protocol extensions.
@inproceedings{rain2015realistic,
title = {Realistic, Extensible DNS and mDNS Models for INET/OMNeT++},
author = {Andreas Rain and Daniel Kaiser and Marcel Waldvogel},
url = {https://netfuture.ch/wp-content/uploads/2016/06/rain2015realistic.pdf
https://netfuture.ch/wp-content/uploads/2016/06/rain2015realistic-slides.pdf},
year  = {2015},
date = {2015-09-03},
urldate = {1000-01-01},
booktitle = {Proceedings of the "OMNeT++ Community Summit 2015"},
abstract = {The domain name system (DNS) is one of the core services in today's network structures. In local and ad-hoc networks DNS is often enhanced or replaced by mDNS. As of yet, no simulation models for DNS and mDNS have been developed for INET/OMNeT++. We introduce DNS and mDNS simulation models for OMNeT++, which allow researchers to easily prototype and evaluate extensions for these protocols. In addition, we present models for our own experimental extensions, namely Stateless DNS and Privacy-Enhanced mDNS, that are based on the aforementioned models. Using our models we were able to further improve the efficiency of our protocol extensions.},
keywords = {DNS-SD, Mobile Networks, Multicast, Service Discovery, Simulation, Zeroconf},
pubstate = {published},
tppubtype = {inproceedings}
}