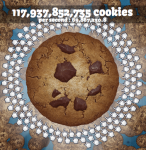 Are you serious about your Cookie Clicker production enterprise of intergalactic dimensions? Then you need this time-shifting production planning system with wormhole and cookieverse capability!Even if it looks like a simple spreadsheet, it is much more than that! With its extradimensional abilities, it will tell you, how fast a newly purchased cursor, time machine, or farm will amortize itself. It will also tell you whether a hired gun, ahem, grandmother will pay itself before she goes into retirement again!
The magic file is available in OpenDocument format here: Cookie Clicker Amortization (Update 2013-09-15: Include Antimatter)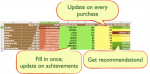 The usage is simple: You only ever fill in the fields with black text; the white ones have been filled in previously thanks to our efficient time machine or are calculated immediately by our infinite monkey system. It's a simple 1-2-3 process:
Fill in your production speed once  into the green columns. (You only need to update the appropriate pair of cells when you purchase a specific upgrade for this type.)
Enter your current number of production means into the yellow column.
And … read the recommendations from the "Amortization" column, which tells you how many seconds this piece of equipment needs to work before it has produced enough cookies to finance itself.
Of course, you may always plan ahead, if you know that a particular upgrade is coming up. As always: You are the entrepreneur, so the strategic decisions are yours, the PPS only supports you in focusing on the strategy, by avoiding wasting time doing mind-numbing clicking, ahem, calculations!
Happy cookie clicking!