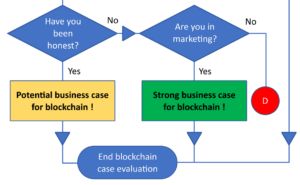 Yesterday, Rene Jan Veldwijk posted a blockchain decision flowchart he had previously used in a presentation.
As it deserves wider visibility and bridges nicely between the DHS/NIST blockchain flow chart and the data life-cycle, I decided to put it online (Rene Jan Veldwijk: "Kein Problem. Aber bitte mit Zitat").
I find it great and I hope you enjoy it as well.
Added 2022-10-21: A (dutch) article by Rene Jan Veldwijk explaining the chart is online: «Blockchain debunked 4: Afrekenen met een leugen»