Our gift card solution for regional brick-and-mortar stores and restaurants has been successfully used in Stein am Rhein for almost a year. As of today, the local version of our gift card for Stein am Rhein, provided by the regional business association, also has a local name: gutSTEIN.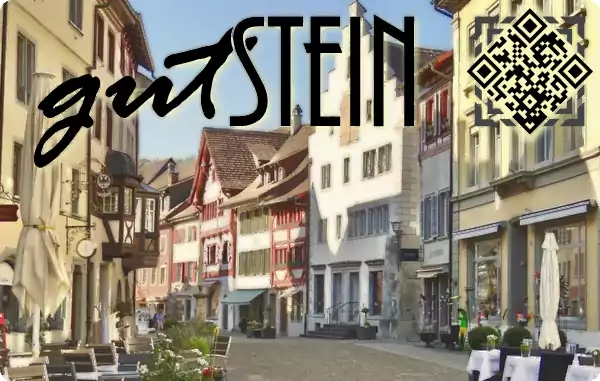 The card has become an important asset for the local shopping culture. Many stores and restaurants already accept it (and are able to provide you with cards and top-ups). Authorities and businesses are using it as a gift for guests, cancelled events, or to congratulate long-standing or leaving employees. We are especially happy that also many individuals have taken advantage of the offer: As a birthday gift or thank-you, the local gift card has firmly established itself.
Today, it not only gets the local name. Also, the technical foundation has been renewed and its use improved, especially for merchants. The most visible change is the new, attractive appearance, waiting for you on https://companyon.ch. Our new foundation also allows reacting quickly for new and upcoming requirements. A first result are the brand-new special offers.
Video greetings have been somewhat hidden away in the previous software version. Now, it is clearly present after having scanned the card to be given away. If you do not have a card ready, watch our video explaining the function.
For example, the participants of the annual general assembly of the local business association have been greeted with the above video.
We are happy that the card is now much easier to use and mostly self-explanatory. Watching our short, to-the-point videos will give you an insight into what to expect and how things work. Also merchants have their own video section, explaining their side of the application.
We're looking forward to your feedback!